Dunne over
This morning Peter Dunne is smelling like a sizzling fat juicy goneburger. The champion of quality French hairdressing is bouffant flambé. The grey mediocrity of his grey Wellington beltway constituency must abhor the type of scandal that Winston Peters has attempted to make under privilege. They must be unimpressed (but maybe not quite as much as Dunne) that his Jim Anderton-style vehicle of convenience post office box party has been deregistered. His party members - like himself - won't say whether they will stick around till the election. He can't blame them when he as leader, now in mid-2013 refuses to say if he will stand again in late 2014. The wheels are falling off and he's down to half a unicycle. It's time to wind up the bastard concoction that is United-Future. The United is meaningless in a one man caucus, and it has no Future. It has ceased to exist officially.
Dunne will be more concerned that the Speaker is taking it seriously and the extra $122k as nominal leader is in jeopardy. Dunne's concern, I imagine from his long comfy tenure as the permanent Minister of Revenue, would be that his ministerial beamer is on the line too - not so much that he could hold his party AGM in one.
His surgeon's bow-tie of sobriety and rectitude won't help him through the existential crisis of no-one caring about Peter Dunne. He's smashed crackers at the bottom of the barrel right now. The voting shows his ticket dips below the natural threshold at which point they contribute to the 'overhang' and are deemed parasites in the electoral system.
So to re-cap: There's this geek who looks like a 18th century French pimp, whose electorate is a like an over-indulged Paris Arrondissement with a bastard Christian-gun nut parasite party in tow using electoral chicanery to lever coalition deals that render him in charge of the government's revenue.
He's spread the IRD's tentacles into Australia and just instituted arresting people with outstanding student loan debts as soon as they enter the country! In what will probably be his last bureaucratic tinkering of any significance he has also announced a $1.5b IRD computer upgrade that is already being mentioned in the same breath as INCIS. The Dunne-led initiatives are few and far between, nothing leaps to mind that would define a legacy to show for being in government for the most part of a quarter century.
The Nats are running out out mates.
---
UPDATE 3:00PM:
NZ Herald reporting
the most extraordinary scenes in parliament. It is apparent the Speaker isn't taking this seriously at all. Carter is a shocker - he makes Lockwood look saintly.
--
NZ First MPs and Labour's Trevor Mallard have walked out of Parliament in protest after Speaker David Carter allowed United Future MP Peter Dunne to keep the extra funding and entitlements that come with being a party leader, despite the de-registration of his party.
Mr Carter announced that decision today but both Labour and NZ First objected, saying if Mr Dunne's party was not registered then it clearly did not meet the rules required for those resources.
Labour MP Trevor Mallard also described the decision as a "farce" and when asked to apologise, refused and chose to leave the Debating Chamber instead.
After objecting, NZ First leader Winston Peters said that if Mr Carter did not produce the legal advice he based his decision on, then his party would boycott Parliament until that happened. His caucus then left Parliament after the Speaker refused to discuss the matter further, beyond saying he had received advice on it before making the decision.
--
It's limping to a certain fate. The vultures are hopping all over the crawling carcass, pecking the eyes and guts out of it before it has the dignity of death.
--
Earlier, Mr Mallard had argued that as well as extra funding, party leaders held certain positions, such as membership on the important Business Committee, which Mr Dunne should no longer be entitled to.
He said it was the wrong decision because Parliamentary rules required a party to be registered with the Electoral Commission for those entitlement to apply.
His colleague David Parker said if United Future was not registered, then in effect Mr Dunne and independent MP Brendon Horan should be treated the same.
Winston Peters had said the Speaker should have acted as soon as the Electoral Commission advised that the party was no longer registered.
Leader of the House Gerry Brownlee said Mr Dunne was elected as a party leader in 2011 and was entitled to continue to be recognised as such.
--
Gerry Brownlee's pudgy little digits all over this one
according to NRT
. The Nats have to protect Dunne, but now the smell of blood is in the water the end must be near.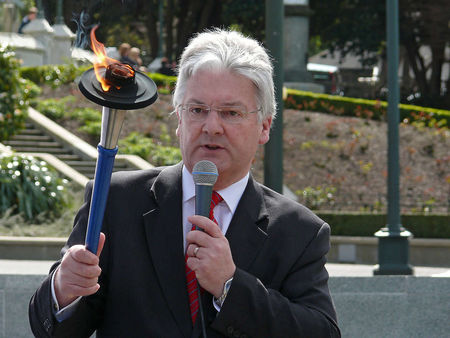 Pic: Dunne accepting a novelty giant cigarette lighter from British-American Tobacco for his services to commonsense.