Korotake III
Would the Crown solicitor have appealed a discharge without conviction if the prince had been Harry Windsor instead of Korotangi Paki? Would anyone - prince or pauper - in that circumstance have had the Crown appeal such a minor incident of lower court discretion? Of course not. The appeal was a reactionary measure of populist racism designed for media consumption, but the political implications are that the NZ government is opposed to and is set on undermining the Maori King movement.
--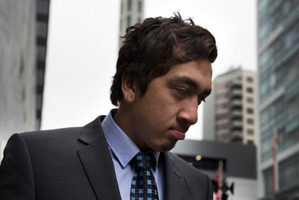 The son of the Maori King now has a conviction against his name after the Crown was successful in its High Court appeal.
Korotangi Te Hokinga Mai Douglas Paki, 19, was originally discharged without conviction on charges of burglary, theft and drink driving at Auckland District Court, but Justice Mark Woolford overturned that ruling in a ruling released this afternoon.
The discharge on the dishonesty offending remained but Paki was convicted for drink driving.
However, he will face no further penalty other than
the eight-month driving disqualification previously imposed.
--
The NZ government demonstration in this case is not that 'no-one is above the law and everyone is equal before the law' - because that is patently false if we ask ourselves what would have happened if it was John Key's son, or Prince Harry - the demonstration is that no Maori is above the law. White people in a position of privilege however can still do whatever they please with little consequence.