Queen Street: Is it really about the trees?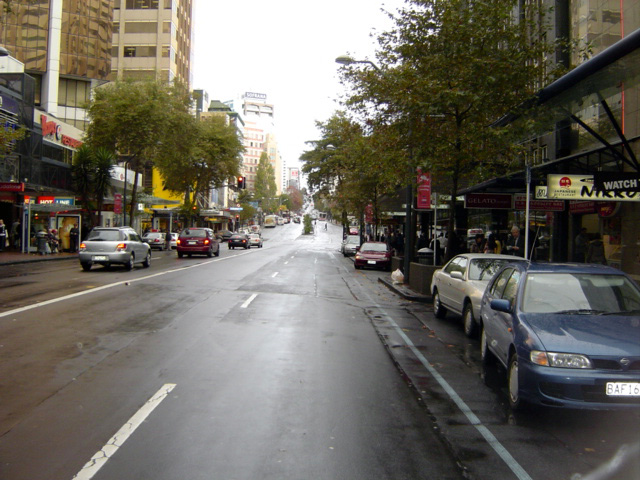 On the left the whatever trees; right are some native plantings already on the lower part of Queen St.
Mr Bhatnagar is joining the fray. The issue: Auckland's golden mile
"massacre"
tree replacement. He's asked me to link the story - and I shall.
NZ Herald reporting
:

"Prominent Aucklanders are taking legal action to stop the Auckland City Council removing the 20 condemned trees in Queen St. Lesley Max said the council did not seek or heed the views of Aucklanders when it sought resource consent to remove the exotic trees and replace them with natives as part of the $30 million Queen St upgrade.
The so-called "Queen St massacre" is set for January 13 and 14, although Mayor Dick Hubbard has said he will consider options to keep 20 of the 36 trees tagged for removal between Mayoral Drive and Wellesley St...
Lesley Max has banded with veteran newspaper campaigner Pat Booth, NewstalkZB host Leighton Smith, former Hobson Bay Community Board members Stephen Goodman and Aaron Bhatnagar and several others to take the legal action...
The group was seeking an interim injunction to stop the council removing the trees..."

I see three streams of issues driving this one (in order of importance):
1. Partisan/ideological/political gain that can be achieved on a potentially "populist" issue by conservative/right activists against the left majority council and Mayor.
2. Conservative/reactionary/cultural cringe knee-jerk backlash to anything "native" at the expense of anything "exotic" (this type of warped thinking has seen Muriel Newman and her
White
concerned citizens committee objecting to local Maori changing a mis-spelled Maori name! - does it get any more blatantly racist than that? Could it possibly? Are these the same people who want to keep the Union jack? is that what the axis of opposition is?)
3. Concern for shade cover and the general amount of "greenness" of the street.
(Issue three is very much at the bottom of the list from what I can tell at this stage.)
On the aesthetic issue I would prefer the iconic - and I use that often over-used term in it's true sense here -
iconic
form of the cabbage tree and the nikau palm over the scraggly, scruffy, anonymous, utterly un-unique, anti-iconic, nothingness of whatever nothing exotic trees (whatever the hell they are?) that we have at present. The only issues are 1) the lack of shade cover with those natives, and 2) Isn't it the pohutakawa that really represents Tamaki Makaurau?
Where were these people, including the King Honky, Leighton Smith, when the Britomart project was being re-written and the massacre of QEII Square took place? The fuck knuckles of the Council decided to turn the only open space of Queen Street
with all it's pohutakawa trees
into a bloody bus depot, a large unusable, unfriendly, anti-pedestrian ashphalt expanse and I don't recall any objections, petitions or injunctions for that. Not one. That is a far more important issue than those exotic trees - by a long, long way.
Turning back the clock: Left: Until c.1957 it was trams, then trolley buses (and a cabbage tree planting in the median strip) until c.1971, and from then until about two years ago it was a public, pedestrian, tree planted, open space. Right: back to a wasted, shitty ground level public transport depot.
Before:Happy people enjoying the square with fountain and pohutakawa trees.
The original briefs for Britomart made it clear that, and quite logically, the QEII pedestrian space should stay and the buses be placed at the sides or behind or anywhere except in that public space... so after the Council get through with it what happens?... They create a public square at the back, where no-one will see it or use it and put all the buses out the front where once people enjoyed an open and somewhat green space. And I've heard every ridiculous excuse from the local Lefty apologist that it would cost too much and the buses had to go somewhere and that small discrete spaces were "in" now and large squares were "out" .. etc. etc. I don't think he even really believes what he was saying - he was just towing the party line. And this is something done under the John Banks Council! [Disclosure: I did tender a plan for the redevelopment involving creating a bigger square by moving the CPO building back and having the new arena immediately to the rear - all things I stand by today].
You see, compared with that issue, I really just don't care about whatever happens to those trees. They are without any merit, save for shade (and it so struck with the shadows from high rise towers that it is moot) and the fact they are a green colour. Other than that they ought to be completely dispensible. At least if the trees were iconic the street would actually be memorable for trees rather than just bad parking, banks and over-priced shopping. All the hysteria over the "massacre" seems misplaced and for ulterior motives. Ask anyone what the trees are on Queen St? Would they know? I think they are conifers or beeches - I'm not sure at all. If those trees were worth saving we would all at least know what they were.
You see why Hubbard switched to keeping some of them by the sounds of it - he just doesn't need the aggro. If you want to beat him up over something choose another issue - there will always be plenty.
And is it not hypocritical for the sort of anti-RMA people (who complain about the authorities having to consult the public at all with things like motorways) to now be whining to the council and using the RMA to hold things up? What happened to "just get on with it" and "too much useless talkfests" etc? Oh how they change their tune when they have a chance at an anti-PC crusade. This is what it is isn't it?